The University of Hawaiʻi at Mānoa William S. Richardson School of Law has named Professor Susan K. Serrano as the Fred T. Korematsu Professor of Law and Social Justice.
Awarded in August, the three-year renewable professorship honors the late Fred T. Korematsu, whose courage in the face of racially biased World War II government policies of detaining and imprisoning Japanese Americans inspires advanced studies in civil rights and liberties at the William S. Richardson School of Law and contributes to social justice initiatives in the United States and beyond.
Serrano serves as the law school's director of faculty research and associate director of Ka Huli Ao Center for Excellence in Native Hawaiian Law. Her work centers on the impacts of U.S. colonialism on Native Peoples and the peoples of the U.S. territories. She also publishes in the areas of critical race theory, Native Hawaiian law, and civil rights and liberties, and is currently writing about the legacy of the Korematsu coram nobis case.
In addition, Serrano is an Executive Editor of Native Hawaiian Law: A Treatise (MacKenzie, Serrano & Sproat eds., 2015). Her publications have appeared in the California Law Review, Harvard Civil Rights–Civil Liberties Law Review, Michigan Law Review, William & Mary Bill of Rights Journal, Centro Journal, and Amerasia Journal, among others. She joined the William S. Richardson School of Law faculty in 2006.
A legal career devoted to civil rights
Prior to joining the law school, Serrano devoted her legal career to civil rights and social justice advocacy as a Staff Attorney at the Asian Law Caucus in San Francisco, California; served as the founding Research Director of the Equal Justice Society; and was the Thurgood Marshall Fellow at the Lawyers' Committee for Civil Rights of the San Francisco Bay Area. She is a 1998 graduate of the William S. Richardson School of Law. Along with UH Mānoa Law Professor Emeritus Eric Yamamoto, who served as the inaugural Korematsu Professor, Serrano inspires law students through a rigorous Scholar Advocates program, designed both to generate and to translate cutting-edge justice theories for front-line practice.
William S. Richardson Law School Dean Camille Nelson said that naming Serrano the Korematsu Professor of Law and Social Justice continues and broadens Fred Korematsu's persistent fight for civil rights and racial equality.
"Susan Serrano's deep commitment to civil rights and social justice shines through in her scholarship, advocacy, teaching, and contributions to the law school and broader community," said Nelson. "We are grateful for the generosity of the Kosasa family and the Korematsu family for enabling the law school to honor Fred Korematsu's remarkable legacy."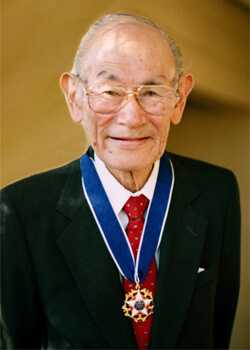 The Fred T. Korematsu Professorship
The Fred T. Korematsu family has chosen only two educational institutions throughout the country to use the Korematsu name to continue the work of exposing social injustice and of fostering redress for historic injustice. The family determined that the only Fred T. Korematsu Professorship in the country should be housed at the William S. Richardson School of Law, to be held by a faculty member there.
The purpose of the Korematsu Professorship is to enable its holder to speak, write, and teach with special authority on matters of civil and human rights and social justice; to train promising law students as collaborators on academic and community-based social justice projects; to engage social justice scholars and practitioners locally, nationally, and internationally; and to extend the professorship holder's social justice work and influence into new realms of intellectual and practical significance. It is made possible through a generous gift from Sidney and Minnie Kosasa, founders of the ABC Store chain in Hawaiʻi.
The Kosasa gift to the Korematsu Professorship honors the strength, courage, and resilience of those who prevailed over the injustices and indignities suffered by Americans of Japanese ancestry during World War II.
The William S. Richardson School of Law will continue its effort to elevate the Korematsu Professorship to a fully-endowed Fred T. Korematsu Chair in Law and Social Justice so that future generations of scholar advocates may be inspired to continue the work for social justice.
Learn more about how to support the William S. Richardson School of Law or to make a gift through UH Foundation. More information on the history of the Korematsu professorship can be found online.